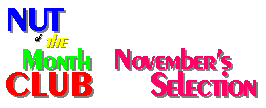 Pistachio
November's selection is the Pistachio, a native of central Asia. Exporters are Iran, Turkey, Greece, Syria and Italy. The Pistachios you received today were grown in Kern County, at the southern end of the San Joaquin Valley in California. These Pistachios are raw, fully mature nuts, naturally opened while still on the tree. Pistachios are a good source of vegetable protein and complex carbohydrate energy. Having no cholesterol, and high dietary fiber make them an excellent and healthy snack.
How to enjoy a Pistachio!
Open the shell and pop them right into your mouth. Eating raw or roasted Pistachios is an acquired, but healthy taste for many Americans. Try adding the shelled nuts to your favorite Mediterranean dish and cook them right into the rest of the ingredients.
Click here to see this month's delicious recipe: Sautéed Scallops with Pistachios.

HOME | FAQ | NUTS | GIFTS | ORDERS
Hazelnuts | Hickory Smoked Almonds | Peanuts | Brazil Nuts | Cashews | Pecans
Mixed Nuts | Macadamias | Honey Roasted Peanuts | Almonds | Pistachios | Walnuts
Send mail to nutmaster@nutclub.com with questions or comments about this web site.
Copyright © 1996-2016 Nut of the Month Club®