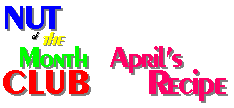 Mixed Greens with Brazil Nuts
¾ cup sliced Brazil nuts
1 egg
1 clove garlic, crushed
½ teaspoon salt
3 tablespoons lemon juice
1 teaspoon dry mustard
½ teaspoon soy sauce
2 tablespoons grated Romano cheese
freshly ground pepper to taste
½ cup virgin olive oil
1 pound mixed greens*, torn in bite-size pieces
*Packaged, pre-washed European blend is recommended
First, slice the Brazil nuts. In a saucepan, cover the nuts with cold water and slowly bring to a boil. Lower the heat and simmer for 2 to 3 minutes.Remove nuts with a slotted spoon, and when they are cool enough to work with, slice with a sharp knife. This method allows you to cut the nuts without breaking them. Set aside two (2) tablespoons of nuts as a garnish.
Cook egg in boiling water for just 1 minute; remove and set aside.
In a salad bowl, mash garlic clove and salt together with a fork. Add lemon juice, dry mustard, soy sauce, Romano cheese, pepper, and egg. Whisk thoroughly.
Heat olive oil in a skillet over medium-high heat, and add sliced Brazil nuts. Sauté until golden brown, about 2-3 minutes. Remove skillet from heat. Remove nuts with a slotted spoon and drain on paper towels.
While whisking the dressing, add the hot oil in a slow stream. Add the greens to the bowl and toss thoroughly. Sprinkle with reserved nuts and serve.
Click here to see this month's selection: Brazil Nut

HOME | FAQ | NUTS | GIFTS | ORDERS
Hazelnuts | Hickory Smoked Almonds | Peanuts | Brazil Nuts | Cashews | Pecans
Mixed Nuts | Macadamias | Honey Roasted Peanuts | Almonds | Pistachios | Walnuts
Send mail to nutmaster@nutclub.com with questions or comments about this web site.
Copyright © 1996-2016 Nut of the Month Club®